Laura Allen Sandage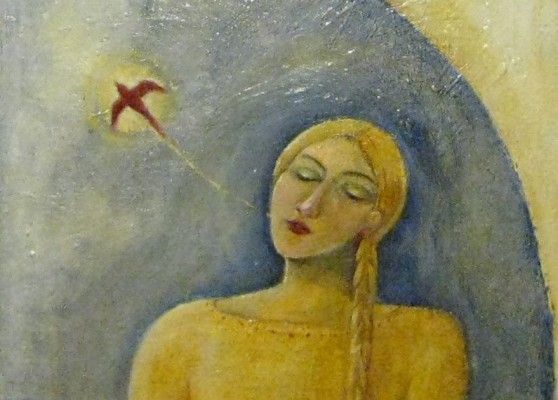 Born in Iowa, raised in California, I grew up with a mother who played Scott Joplin on the piano and show tunes on the cello and a father who sang me to sleep with haunting folk songs like Go Tell Aunt Rhody. At age 14, I made up advertising jingles and pop songs for fun, while teachers encouraged me to study classical voice. I also kept diaries, wrote poetry, read about the paranormal, and took dance and drawing classes as a teen.

I earned a B.M. in voice performance at the UOP Conservatory of Music in Stockton, then married a charming East Indian pharmacist and went on to graduate studies in French Literature and Comparative Literature at Indiana University, Bloomington. Before my Ph.D. dissertation was complete, babies came along and snapped me out of my academic groove. While caring for my two daughters, I wrote poetry and humor published in small magazines, performed and painted faces at birthday parties, taught drama and improv classes for kids and adults, led creative writing groups, struggled with chronic fatigue syndrome for several years, studied hypnosis and meditation, and eventually found my way back to songwriting at age 37. In songwriting, I felt I could make use of anything I had ever done or been or wished to be.

When the family settled in Davis, California, I took up singing and playing (string bass, percussion, guitar, etc.) with various local musical collaborators. The acoustic trio MudLark was born during work on my eclectic 2005 solo CD, Bloom, and included Alaskan singer-songwriter and banjo mistress Katie Henry and guitarist/singer Ray Frank, originally from the Bronx. Together, the three of us created powerful new work deeply rooted in American musical tradition: MudLark's debut CD, Nest, was released in 2007.

I completed another community-based solo project in 2009, a CD titled "In Equal Measure: Songs for the Tender Witness." This collection of sensitive original songs was created with the support and guidance of Yolo Hospice, where I had been a patient care volunteer since 2003, and was funded in part by a City of Davis Art Contract. Many local musicians donated their efforts and John Rose generously engineered the project. This work led me to speaking and singing engagements at churches, memorials, meditation circles and support group meetings.

I joined the Vocal Art Ensemble in Fall 2008, and the joys of choral singing gradually took over my world. For a number of years I sang with the Vocal Art Ensemble and directed both the Free Range Singers and the UU Sparks Choir, while teaching singing to students from age 2 to 72+, as well as composing music for Winters Shakespeare Workshop and leading sound effects orchestras and singing classes at Camp Winnarainbow during summers.
If that sounds like a lot, it was. I hit a wall involving overwork, re-surfacing childhood trauma, re-emerging chronic fatigue symptoms, and the "change of life," which is one of the more apt euphemisms that hide the miraculous processes of the female body. A couple years of good therapy helped, along with a paring down of my obligations and a deep dive into the intuitive adventure of healing my ancestral lineages, which began right as my last grandparent was dying at age 98. Eventually I pursued training in ancestral healing and ritual with Daniel Foor of Ancestral Medicine.
Now my kids are grown, many of my musical seeds have been sown, and I can be found taking walks around the neighborhood, guiding Ancestral Healing sessions, coaching people who want to expand or focus their musical or creative lives, and creating community events that commingle music, art, and spirit. I call this con*spire, and I love the way it allows me to combine my skills as a nurturer of creativity, a collaborative performer/creator/director, and an intuitive ritualist. I produced four con*spire projects in my local community in 2017-18, two of which were supported by funding from the City of Davis. 
Another creative project in community was the 2018-19 building of the Earth Chapel in my backyard, which was led by Michael G. Smith and Marisol Lopez, and carried out with the supportive labor of many friends and community members. Playing in the mud is so fun that people were happy to help out just for the experience-- and a delicious Punjabi lunch prepared by my husband! The chapel is now the locus of my Zoom-centric work life as well as a source of inspiration and beautiful acoustics for my song+ritual practices.
Meanwhile, I have two novel-length manuscripts still wondering if I will ever publish them--Wingspan, a counterpoint of three characters whose lives are touched by music and violence, and A Thousand Glances, a romantic and metaphysical romp with Indian food and ghosts. As a writer, I have never been in a hurry. I usually suspect I have another story about to emerge . . .