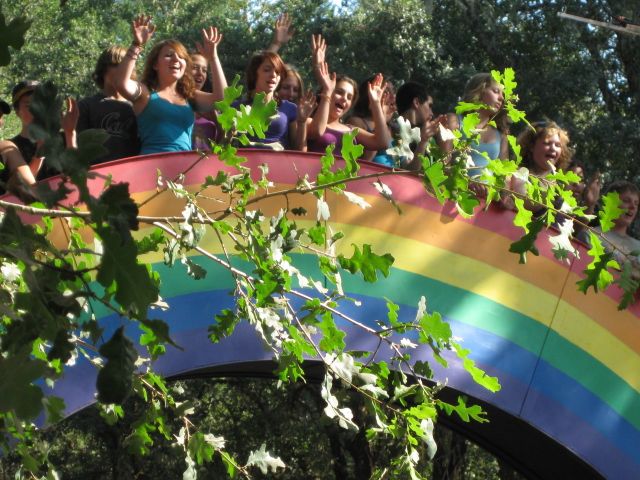 Because singing with friends can make you feel on top of the world! 
Choral singing has been one of the great joys in my life, from my start in the Kennedy Jr. High Chamber Singers and Monta Vista Madrigals, to the UOP Conservatory of Music, to Davis's Vocal Art Ensemble, UU Sparks Choir, and Free Range Singers! 
The singing I lead now is a way to offer that joy to those around me. I have directed church choirs and community theater singers, taught elementary students, summer campers, and homeschoolers, and now I direct the Free Range Singers, in tandem with Doreen Conte's Seasonal Singing Salon, keeping singing alive year round in Davis. I also enjoy songleading at community singing gatherings, such as Song Village, and I create songs that are useful for community singing.
Back in the fall of 2011, I attended the Community Choir Leadership Training program, led by Siobhan Robinsong and Denis Donnelly, in Victoria, B.C.  There I studied what it means to lead community choruses where all voices are welcome, where singing is treated as a natural birthright, not a privileged gift of the trained and talented few.  We explored methods to help pitch-challenged singers and ways to build a sense of emotional safety in a group that may include people previously wounded in musical or religious settings. We sang many, many wonderful songs, the kind that can be learned easily in the moment, producing thrilling harmonies and rich opportunities for musical connection.
New research continues to emerge demonstrating how health-giving singing can be! Check out this article from the University of Oxford:
Choir Singing Improves Health, Happiness
The Free Range Singers and Seasonal Singing Salon are part of a larger movement afoot in the world-- a movement toward community in song: simple, human, low-tech, high-reward, health-enhancing.  For more information about this broader community, check out:
Natural Voice Practitioners Network